Tooth Crown

Russellville, AL


A tooth crown, or dental crown (also known as a cap) is used to cover up a portion of a tooth or the entire tooth to protect it from any damage.

Dental crowns are used for various situations and are common after dental procedures such as cleaning a cavity, or even after a root canal has been completed.

There are different kinds of dental crowns you can choose from, and all of these dental crowns and caps can benefit you tremendously.

If you have some dental problems and you are wondering if a dental crown could work to help restore functionality, please visit us at Singing River Dentistry in Russellville, AL so you can get more information about how dental crowns can benefit you in the long run.


Why Do You Need a Crown on a Tooth?

There are several reasons why you might want to enjoy the benefits that a dental crown offers:


| | |
| --- | --- |
| • | When someone goes through a dental restoration procedure for their teeth, it often disturbs the tooth enamel, and this means that sensitivity can become a problem. When a dental crown is placed over the tooth that has been treated, it not only protects the tooth enamel, but it also prevents sensitivity and infections from setting in. |
| • | Dental crowns restore complete functionality and allows a person to stay comfortable while chewing the food or eating something hot or cold. |
| • | Dental crowns restore the normal shape and appearance of your teeth. |
Simple Process

The advantage of using a dental crown is that the process is simple and non-invasive.

Crowns are permanently attached to the tooth after it has been cleaned, disinfected, and properly shaped.

If you have a busy work schedule and you can't afford to take any time off to get some invasive dental procedures completed, then you may want to consider a dental crown, which is easy to put on and can protect your teeth for a long time.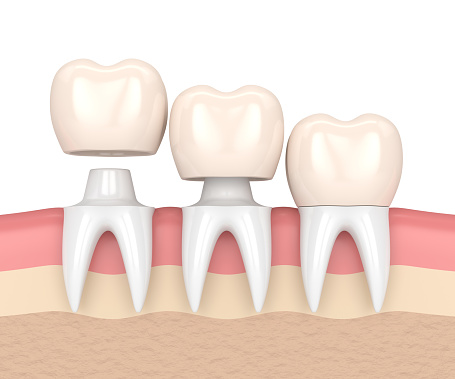 What Are Tooth Crowns Made Out Of?

One of the best things about dental crowns is that they are available in various materials and the crown can be created based on the size, shape and fit of the tooth it was created for. There are various kinds of materials available and our team can help you with a treatment plan that fits your budget perfectly.

Crowns are made of ceramic, porcelain, silver, or gold. A special type of cement is used to bond the crowns to your teeth. All of these materials are compatible with teeth. The material to be used largely depends on the cost and color of the crown.
How Long Does a Tooth Crown Last?

A good quality dental crown will last a long time if optimum levels of oral hygiene are maintained.

Typically a dental crown can last anywhere between 15 to 30 years, but this also means that you should pay attention to oral hygiene and get your dental examinations done regularly. A lot of people believe that once a dental procedure is completed, they no longer need to look back on it to worry about whether or not it will last.

While dental crowns are designed to last long, it also depends on how you maintain the crown, and the more you look after your dental care the better it will be not only for the dental crown but for the overall health of your teeth and gums.


Schedule a Tooth Crown Appointment with Your Russellville Dentist!

Please visit us at Singing River Dentistry or give us a call at 256-460-4191 to get more information on dental crowns, or to answer any questions you may have.